Riverside Samples Up To 7.24 G/T Gold At The 100% Owned La Silla Gold Project In Sinaloa, Mexico
June 29, 2016 – Vancouver, BC: Riverside Resources Inc. ("Riverside" or the "Company") (TSX-V: RRI), is pleased to announce results from initial rock chip sampling at the recently acquired La Silla Gold Project in Sinaloa, Mexico. Riverside geologists collected 74 rock chip samples with assay results ranging from <0.05 up to 7.24 g/t gold and <0.05 to 148.4 g/t silver. Ten of the samples returned greater than 1 g/t gold (see table below for highlighted samples):
| | | | |
| --- | --- | --- | --- |
| Sample ID | Gold (g/t) | Silver (g/t) | Interval Width (m) |
| RRI36118 | 7.24 | 102.3 | 1 |
| RRI36127 | 7.19 | 17 | 2 |
| RRI36126 | 5.85 | 22 | 2 |
| RRI36121 | 3.4 | 148.4 | 0.70 |
| RRI36129 | 2.72 | 18.3 | 1 |
| RRI36054 | 2.21 | 7.7 | 1.5 |
| RRI36119 | 1.78 | 17.7 | 1 |
| RRI36128 | 1.76 | 9 | 1 |
| RRI36051 | 1.73 | 92.1 | 1.5 |
| RRI36113 | 1.09 | 8 | 2.5 |
Disclosure: Initial Riverside sampling at La Silla was selective in nature and therefore may not be representative of property wide mineralization.
The concessions obtained by Riverside (see Riverside's press release November 17, 2015) comprise an integral part of the historic La Silla district and cover approximately 2,305 hectares (23 km sq). Mineralization in the La Silla district, which includes properties not currently held by Riverside, is widespread with many small mines, workings and indications of high-grade gold-bearing quartz veins. Individual veins in La Silla range in width from less than 0.5 to 12.0 metres. There are a total of 31 veins identified in the La Silla district with a total strike length of 13.2 km. At least 6 vein systems totaling over 5.6 km in length occur within Riverside's recently acquired concessions.
Riverside's President and CEO, John-Mark Staude, stated: "We are encouraged by the initial assay results at La Silla and will now look forward to further follow up exploration work to refine target areas. We remain open to potential district consolidation and will explore opportunities to partner with other groups in the region to create value moving forward."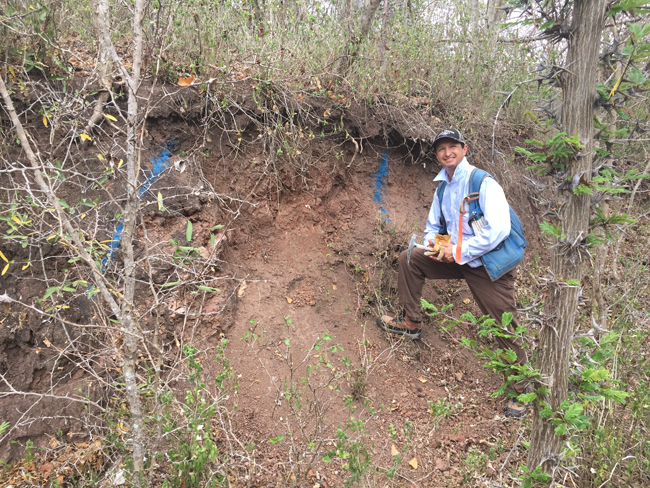 Pictured above: Riverside's President and CEO, John-Mark Staude, visits outcrops at La Silla Project


To view more La Silla photos and figures please visit the La Silla Project Page.
Qualified Person and QA/QC:
The scientific and technical data contained in this news release pertaining to the La Silla Project was reviewed and prepared under the supervision of Locke Goldsmith, P. Eng., P. Geo., an independent qualified person to Riverside Resources who is responsible for ensuring that the geologic information provided in this news release is accurate and acts as a "qualified person" under National Instrument 43-101 Standards of Disclosure for Mineral Projects.
Samples were taken to Hermosillo, Mexico where ALS Laboratory Group's mineral division ALS Chemex crushed and pulverized each sample. The rejects remained with ALS Chemex while the pulps were transported to ALS Chemex's ISO 9001-2008 certified laboratory in North Vancouver, BC, Canada for analysis. A QA/QC program was implemented as part of the sampling procedures for the exploration program. Standard and blank samples were randomly inserted into the sample stream prior to being sent to the laboratory.

About Riverside Resources Inc.:
Riverside is a well-funded prospect generation team of focused, proactive gold discoverers. The Company currently has more than $3,500,000 in the treasury and approximately 37,300,000 shares outstanding. The Company's model of growth through partnerships and exploration uses the prospect generation business approach to own resources, while partners share in de-risking projects on route to discovery. Riverside has additional properties available for option with more information available on the Company's website at www.rivres.com.
ON BEHALF OF RIVERSIDE RESOURCES INC.
"John-Mark Staude"
Dr. John-Mark Staude, President & CEO
For additional information contact:
Certain statements in this press release may be considered forward-looking information. These statements can be identified by the use of forward looking terminology (e.g., "expect"," estimates", "intends", "anticipates", "believes", "plans"). Such information involves known and unknown risks -- including the availability of funds, the results of financing and exploration activities, the interpretation of exploration results and other geological data, or unanticipated costs and expenses and other risks identified by Riverside in its public securities filings that may cause actual events to differ materially from current expectations. Readers are cautioned not to place undue reliance on these forward-looking statements, which speak only as of the date of this press release.
Neither the TSX Venture Exchange nor its Regulation Services Provider (as that term is defined in the policies of the TSX Venture Exchange) accepts responsibility for the adequacy or accuracy of this release.