Riverside Resources Stakes The Carrizal Property, Mexico
November 5, 2007 - Vancouver, British Columbia: Riverside Resources Inc.
TSX.V: RRI announces that it has applied for a second exploration concession on the western edge of the Sierra Madre in the state of Sinaloa. The property covers 20.77 sq kms in an area that has seen gold mining for over 200 years. Riverside's program will leverage off of historic exploration and small scale production from inlier concessions to explore for large gold deposits. Initially, the targets are open pit gold deposits; field crews will be working in coming months to map and sample the alteration system.
Riverside Resources staked the area based on previously known gold anomalies and numerous small polymetallic vein occurrences, shown on the map below. Previous government sampling revealed Cu-Pb-Zn-Ag-Au bearing minerals consistent with a polymetallic vein system. Cross cutting relationships and multiple porphyry dikes demonstrate superimposed diverse magmatic pulses which can be an indicator of a large productive system similar to other near by districts in this part of Mexico including the Nuestra Senora district.
The Riverside Resources Exploration Team continues to acquire mineralized areas that have potential for new mineral discoveries. President John-Mark Staude states, "This property continues Riverside's development of a portfolio of properties in the gold-rich regions of Mexico which, with further exploration, can lead to discovery and have potential for valuable new mines." The two gold properties in the western Sierra Madre Occidental of Mexico are shown on the website along with more information about the regional generative program at www.rivres.com.
The scientific and technical information contained in this news release was prepared under the supervision of Carl Nelson, VP Exploration for Riverside Resources, and a "qualified person" under National Instrument 43-101 Standards of Disclosure for Mineral Projects.
Map of the Carrizal concession application showing prospect locations and inlier tenements.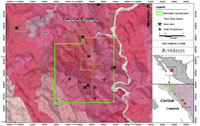 For additional information contact:
John-Mark Staude,
President & CEO
Riverside Resources Inc.
This email address is being protected from spambots. You need JavaScript enabled to view it.
Phone: (778) 327-6671
Fax: (778) 327-6675
Web: www.rivres.com
Warwick Smith,
Director & Manager Media Communications
Riverside Resources Inc.
This email address is being protected from spambots. You need JavaScript enabled to view it.
Phone: (778) 327-6671 (Ext. 316)
Fax: (778) 327-6675
Web: www.rivres.com
The TSX Venture Exchange does not accept responsibility for the adequacy or accuracy of this release.