Riverside Updates Drilling and Exploration Progress on Multiple Projects
December 20, 2011 – Vancouver, BC: Riverside Resources Inc. ("Riverside" or the "Company") (TSX-V: RRI) is pleased to provide an exploration update on partner funded drilling and exploration. The Company delivered strong deal flow in 2011 signing five different option agreements with other junior partners. Riverside and its partners were busy completing four separate drill programs during the second half of the year and are currently drilling a fifth project. The Company continues to generate and advance quality exploration prospects and will aim to deliver multiple partner funded drill programs in 2012. Recently completed drill programs along with exploration updates are summarized below.
Penoles Gold-Silver Project: Riverside and partner Sierra Madre Developments took a significant step in 2011 towards delineating a resource at the El Capitan gold target. Highlighted intercepts within this shallow, open-pittable gold zone included 33.50 metres of 1.7 g/t gold (CDDH-11-17) and 33.85 metres of 1.4 g/t gold (CDDH-11-18) (News release October 24, 2011). These assays expand the drill intercepts in the Capitan zone at this project and are supportive for further drilling to prove up and expand a potential mineralized body. Favorable trench results on the property at the nearby historic mine area and silver vein system of Jesus Maria prompted Sierra Madre to test the high-grade surface numbers at depth with an initial single drill hole. That drill hole encountered the highest individual silver value in this current program (1,757.7 g/t silver from a 0.2 meter wide interval) as well as intersecting three, mineralized intervals with high-grade silver.(Full details available in November 16, 2011 News Release). Follow up drilling is expected at both the El Capitan and Jesus Maria targets in 2012. Complete assay results available Here.
Sugarloaf Peak Gold Project: Riverside's partner Choice Gold completed six diamond drill holes totaling 2,012 metres to test target areas identified beyond the historically known mineralized zone. The lateral extension of the higher-grade mineralization intersected in SGL-11-04 (1.76 g/t gold over 9.91 meters reported by Riverside on October 6, 2011) has validated a new near-surface oxide zone for further follow up. A recently completed mapping campaign was completed with 130 grab samples collected over several parts of the property surrounding the central area of historically known mineralization. Twenty-nine samples returned values higher than 100 ppb gold, and five samples exceeded 1 g/t gold highlighted by an 11.9 g/t gold sample collected from a silicified outcrop of blue schist in the southeast part of the property. The program also returned copper results as high as 4.71% and 6.72% with associated silver values of 95.7 g/t and 63 g/t respectively (reported by Choice Gold on November 17, 2011). The drill results from phase 1A and the recent mapping campaign will guide and influence follow up drilling expected in 2012. Complete drill results from phase 1A available at theRiverside website.
Libertad Gold-Silver Project: Riverside's partner, Geologix Exploration Inc., recently completed a 1,200 m follow-up drill program. The program included 5 holes within a previously untested central portion of the project's gold and silver mineralized structure. Results included intervals of 24.8 metres of 49.2 g/t silver and 12 metres of 0.35 g/t gold within different zones of the same drill hole (LIB-11-002) (reported by Geologix on December 9, 2011). Geologix has elected not to continue making the cash payments required to complete earn-in on the project, and thus Riverside has regained 100% ownership. Riverside is now in possession of all completed property data, which will be used to evaluate remaining target areas and determine the focus for follow up work on the project. A complete table of results for the recently completed 1,200 m drill program can be found at www.rivres.com.
Chapalota Gold-Copper Project: Riverside and partner, Guerrero Exploration Inc., completed a 2,000 m drill program during the summer of 2011. Gold and silver mineralization wasintersected at and along strike of both the Leonas and Habas zones highlighted by drill hole CH-11-07, which returned 3 m of 11.6 g/t gold including 0.3 m of 101.5 g/t Au. Follow up drill testing to test the continuity of mineralization and refining untested drill target areas are potential next steps at Chapalota. A table highlighting drill results and diagrams showing drill hole locations are available on the Company's website.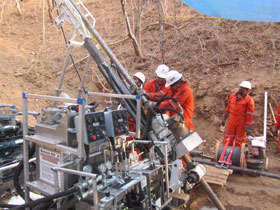 Anticipated Partner-funded Drilling and Exploration in 2012: Riverside expects its junior and major partners to fund a combined estimate of $7M towards drilling and exploration on the Company's projects over the next 12 months. Drilling is currently underway at the Catrina Gold Project, and the Company anticipates drilling to also commence at its Pedernal, Penoles, Sugarloaf Peak and Cerro Azul projects during 2012. A more comprehensive look towards the coming year will be outlined when the Company announces its 2012 Corporate Growth Plans in early January.
New Vice President of Exploration:
Howard Davies has been promoted to Vice President of Exploration for the Company. Mr. Davies previously held the position of Exploration Manager for Riverside where he managed various exploration initiatives throughout North America. Howard Davies brings to Riverside a strong 15 year history in international project exploration and development, with a focus on gold, base metals, diamonds and tantalum. He has managed exploration projects for several junior mining companies, in the Arctic, Asia, Middle East and Africa, in addition to major companies such as Teck Cominco and, more recently, Anglogold Ashanti. Mr. Davies is a Qualified Person under National Instrument 43-101, as well as a member of AIG.

Qualified Person:
The scientific and technical data contained in this news release were prepared under the supervision of Mark J Pryor, Pri.Sci.Nat., an independent qualified person to Riverside Resources, who is responsible for ensuring that the geologic information provided in this news release is accurate and acts as a "qualified person" under National Instrument 43-101 Standards of Disclosure for Mineral Projects.
ON BEHALF OF RIVERSIDE RESOURCES INC.
"John-Mark Staude"
Dr. John-Mark Staude, President & CEO
For additional information contact:
Joness Lang

Manager, Corporate Development
Riverside Resources Inc.
Phone: (778) 327-6671
Fax: (778) 327-6675
Web: www.rivres.com

Kaley Reid

Corporate Communications
Riverside Resources Inc.
Phone: (778) 327-6671
Fax: (778) 327-6675
Web: www.rivres.com
Certain statements in this press release may be considered forward-looking information. These statements can be identified by the use of forward looking terminology (e.g., "expect"," estimates", "intends", "anticipates", "believes", "plans"). Such information involves known and unknown risks -- including the availability of funds, the results of financing and exploration activities, the interpretation of exploration results and other geological data, or unanticipated costs and expenses and other risks identified by Riverside in its public securities filings that may cause actual events to differ materially from current expectations. Readers are cautioned not to place undue reliance on these forward-looking statements, which speak only as of the date of this press release.
Neither the TSX Venture Exchange nor its Regulation Services Provider (as that term is defined in the policies of the TSX Venture Exchange) accepts responsibility for the adequacy or accuracy of this release.