Riverside Announces Exploration Results from $400,000 Partner-Funded Program at The Glor Gold Project
February 15, 2017 – Vancouver, BC: Riverside Resources Inc. ("Riverside" or the "Company") (TSX-V: RRI), is pleased to report on the progress of the partner-funded exploration program being conducted with Centerra Gold Inc. ("Centerra") at the Glor Gold Project (the "Project"), located approximately 8 km west of Alamos Gold's El Chanate Mine in Sonora, Mexico. Between August 2016 and the end of last year, a number of programs of geophysical and geochemical surveying were completed along with geological mapping. Expenditures on these exploration programs amounted to approximately US$400,000 and were entirely funded by Centerra as part of its earn-in requirements (see Riverside press release dated July 28, 2016). The results of the 2016 soil and rock sampling programs are very encouraging, having defined multiple gold targets in the north-eastern, central and western parts of the Glor property.
The 2016 exploration programs included geological mapping at a 1:5,000 scale, a 37.7 line- kilometre induced polarization survey and a 136 line-kilometre ground magnetics survey. In addition, 926 soil samples, 341 rock chip samples and 1,468 saw-cut channel samples were collected and analysed. Shallow trenches with a combined length of more than 1,200 metres were excavated with a small backhoe machine as part of the rock sampling program (34 of 430 channel-cut samples (8%) collected from shallow trenches returned gold assays greater than 0.150 g/t Au, with the highest value being 2.241 g/t Au). The geochemical anomalies for gold, arsenic and to lesser extent silver, lead and zinc that were outlined in the north-eastern sector of the property are particularly significant because they are broadly coincident with zones of anomalous geophysical responses detected by the induced polarization survey and with bedrock exposures of hydrothermally altered and sheared Mesozoic sedimentary rocks (see Riverside press release dated November 14, 2016). Geochemical results for gold are shown on the map figure at the bottom of this press release.
Highlighted Exploration Results:
2200 metre by 900 metre Au-As soil anomaly defined in northeastern sector of the property where mapping has identified extensive area of strongly altered and foliated metasedimentary rocks
Induced polarization chargeability anomalies that are broadly coincident with Au-As soil anomalies identified in northeastern and central sectors of the property.
52 of 341 rock chip samples (16%) show anomalous concentrations of gold, ranging from 0.152 up to 21.0 g/t Au; mineralized rocks typically display quartz-sericite-Fe oxide alteration
Semi-continuous series of channel-cut samples gave unweighted average gold content of 0.606 g/t Au across 42 metres (individual 3 metre long samples returned assays ranging from a low of 0.09 g/t to a high of 2.442 g/t Au)
Trench sampling results included of 9 metres @ 0.421 g/t Au; 27 metres @ 0.368 g/t Au; 12 metres @ 0.506 g/t Au
Riverside's President and CEO, John-Mark Staude, stated: "We continue to be encouraged by the results of the geochemical and geophysical surveys completed to date at the Glor Project, which show positive indications of an orogenic gold system. The quartz-sericite alteration, veining and deformation styles are similar to such features commonly seen at Sonoran orogenic gold deposits, including the nearby Chanate Gold Mine. We now look forward to further results from the current trenching and structural mapping program, with plans in place to drill in 2017."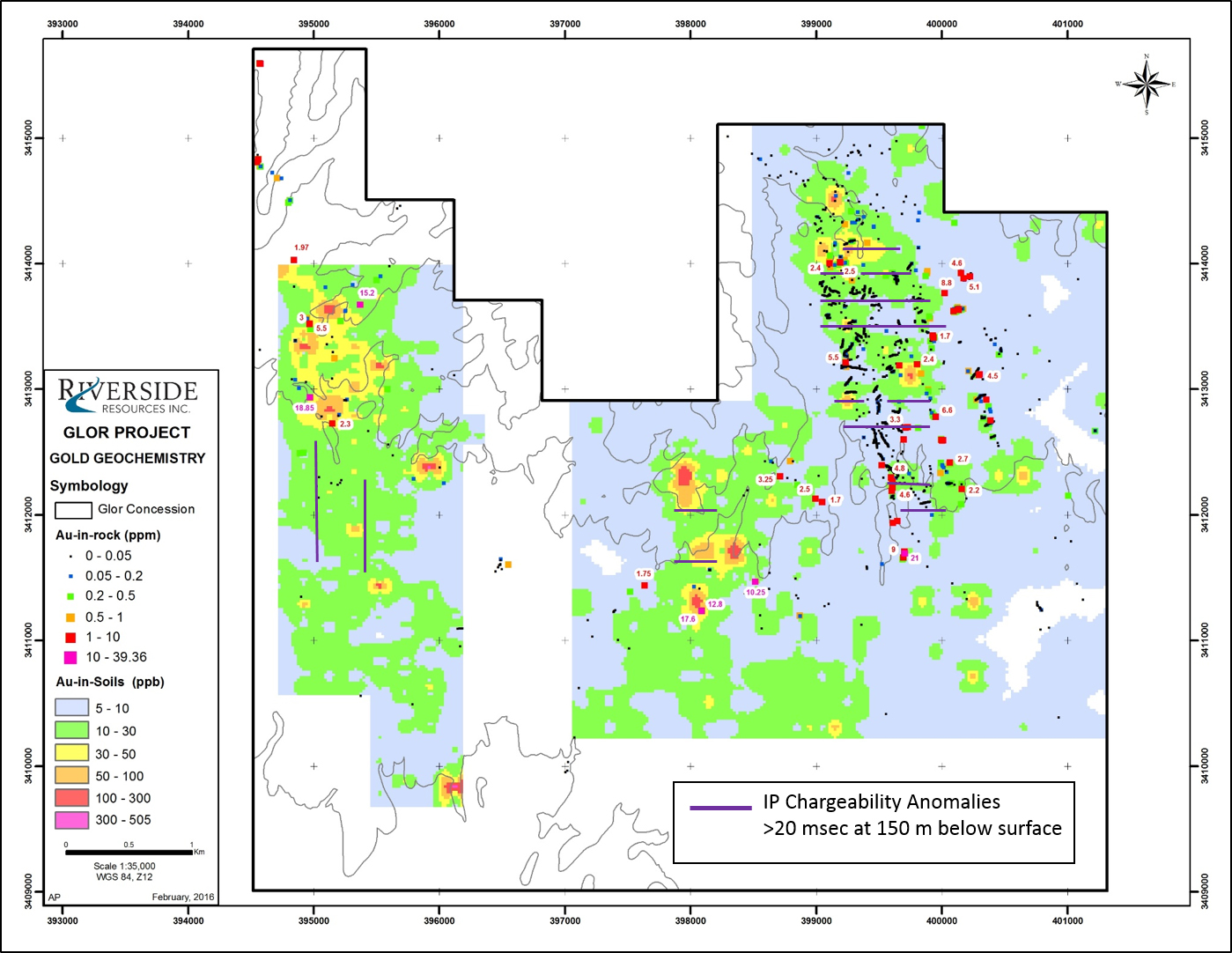 Figure Above: IP Chargeability Anomalies, Soils & Gold Geochemistry
Additional Exploration Work Now Underway:
Exploration has resumed at Glor and is focusing on the gold targets that were defined by the above-described work programs. Centerra will also be funding this year's field programs which will involve additional mechanical trenching, channel rock sampling and detailed geological mapping of rock alteration, structural features and lithologies deemed to be the preferred hosts of the gold mineralization found on the property. A heavy-duty excavator (Hyundai 220) is currently digging trenches to further test the Pitaya Target. A number of other zones of gold mineralization that were identified in 2016 will also be trenched and sampled this quarter. Trenches will generally be 50 to 100 metres in length and will be dug up to 3 metres into bedrock. Presently, the planned exploration program and budget for 2017 calls for two months of trenching and channel sampling. The goal of this work will be to clearly define high-potential gold targets for drilling which is expected to take place in the second half of the year. A drilling program will be planned after the results of the ongoing trenching have been received and evaluated.
Additional information about the Glor Project can be found at the Glor Project Page on Riverside's website.
Qualified Person and QA/QC:
The scientific and technical data contained in this news release pertaining to the Glor Project was reviewed and prepared under the supervision of Locke Goldsmith, P. Eng., P. Geo., a non-independent qualified person to Riverside Resources who is responsible for ensuring that the geologic information provided in this news release is accurate and acts as a "qualified person" under National Instrument 43-101 Standards of Disclosure for Mineral Projects.
Soil and rock samples are being taken to the Bureau Veritas Laboratories in Hermosillo, Mexico for fire assaying for gold and ICP analysis for 45 common and trace elements. A QA/QC program has been implemented as part of the rock sampling program at Glor, with 199 blank and standard samples being analysed along with the 1,809 rock samples that were collected from the field.
About Riverside Resources Inc.:
Riverside is a well-funded prospect generation team of focused, proactive gold discoverers. The Company currently has approximately $3,300,000 in the treasury and approximately 37,550,000 shares outstanding. The Company's model of growth through partnerships and exploration uses the prospect generation business approach to own resources, while partners share in de-risking projects on route to discovery. Riverside has additional properties available for option with more information available on the Company's website at www.rivres.com.
ON BEHALF OF RIVERSIDE RESOURCES INC.
"John-Mark Staude"

Dr. John-Mark Staude, President & CEO
For additional information contact:
Certain statements in this press release may be considered forward-looking information. These statements can be identified by the use of forward-looking terminology (e.g., "expect"," estimates", "intends", "anticipates", "believes", "plans"). Such information involves known and unknown risks -- including the availability of funds, the results of financing and exploration activities, the interpretation of exploration results and other geological data, or unanticipated costs and expenses and other risks identified by Riverside in its public securities filings that may cause actual events to differ materially from current expectations. Readers are cautioned not to place undue reliance on these forward-looking statements, which speak only as of the date of this press release.
Neither the TSX Venture Exchange nor its Regulation Services Provider (as that term is defined in the policies of the TSX Venture Exchange) accepts responsibility for the adequacy or accuracy of this release.