Riverside Resources And Centerra Gold Report Additional Trench Results And Commence Drilling At The Glor Gold Project
April 17, 2017 – Vancouver, BC: Riverside Resources Inc. ("Riverside" or the "Company") (TSX-V: RRI), is pleased to report that partner-funded drilling has commenced with Centerra Gold Inc. ("Centerra") at the Glor Gold Project (the "Project"), located approximately 8 km west of Alamos Gold's El Chanate Mine in Sonora, Mexico. The 2017 exploration campaign commenced at the end of January with a program of mechanical trenching that yielded long intervals of disseminated gold mineralization at surface at the Pitaya Gold Zone (see Riverside's press release on March 21, 2017).
A 2,000 metre diamond drilling program has now commenced with the first drill-holes designed to begin testing the newly discovered Pitaya Gold Zone, as well as induced polarization geophysical anomalies that are broadly coincident with this zone of mineralization. The mechanical trenching program, which has been employing a heavy-duty back-hoe, has been halted so that the project team can focus on the diamond drilling work.
The first drill-hole (GL17-001D) is collared between trenches Tr-01 and Tr-02 where a broad zone of disseminated and quartz veinlet-hosted gold mineralization was exposed by the trenching program. Tr-01 and Tr-02 yielded sample intervals of 105 metres that averaged 0.492 g/t Au and 84 metres averaging 0.533 g/t Au, respectively.
Riverside's President and CEO, John-Mark Staude, stated: "We provided guidance that drilling was anticipated at Glor in our 2017 Corporate Outlook at the beginning of the year, and are pleased to now have drilling commence ahead of schedule. Riverside continues to be active in Sonora with exploration work expected to start at the Company's Cecilia Project and partner-funded Clemente Project in the near-future. We continue to deliver as promised and look forward to drill results from Glor."
To date, eighteen trenches have been excavated on the Glor property with a combined length of 3,436.2 metres. The majority of these trenches have tested the Pitaya target area which is located in the north-eastern sector of the Project. Gold assay results have been received for samples collected from seventeen of the trenches; assays for samples from trench Tr-18 are pending. Highlights of trenching results obtained since the Company's previous news release (March 21, 2017) are summarized in the table below:
Table 1: Additional Trench Results from the Glor Gold Project
| | | | |
| --- | --- | --- | --- |
| Trench ID | Location of Interval | Length of Assay Interval* | Average Au Grade |
| Tr-12 | starting East end of Tr-12 | 9 m | 0.568 g/t |
| Tr-12 | starting 21m from East end | 12 m | 0.472 g/t |
| Tr-12 | starting 42 m from East end | 18 m | 0.450 g/t |
| Tr-14 | starting East end of Tr-14 | 6 m | 0.469 g/t |
| Tr-17 | starting 135m from East end | 9 m | 0.637 g/t |
*Assay intervals are composed of continuous 3 metre long sample intervals, with individual samples consisting of hammer-chipped rock fragments being systematically collected horizontally and vertically from one of the walls of the trench for the entire length of the sample interval (3 metre panels).
Trench 12 (Tr-12) represents the western extension of Tr-01, which yielded the assay interval of 105 metres averaging 0.492 g/t Au at its western end, while Tr-14 is the western extension of Tr-03. See the figure below for highlighted trench results and planned drill-hole locations: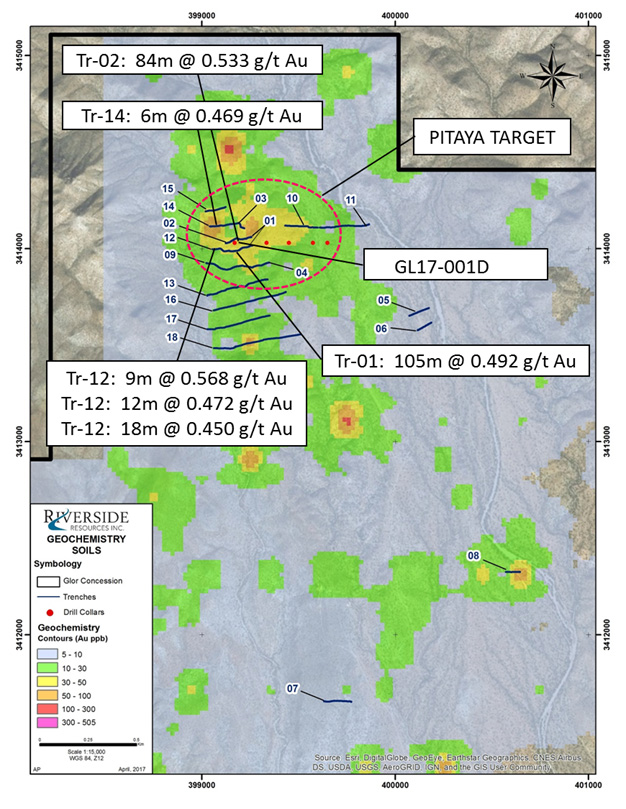 Figure 1: 2017 Trench Locations and Initial Drill-hole Locations
Additional Program and Project Details:
Drill-hole GL17-001D, with a planned length of 250 metres, is inclined 50° and has an azimuth of 270°. The next three holes to be drilled will be located due east of GL17-001D, with planned collar sites at 165, 280 and 405 metres east of the first hole. The diamond drilling contract was awarded to Hermosillo-based Falcon Drilling which is using HQ drilling equipment for the diamond drilling program. Drill cores are being photographed, geologically logged and then sawn in half to provide samples for gold assaying and multi-element geochemical analysis that will be done by Bureau Veritas analytical laboratories in Hermosillo, Mexico and Vancouver, Canada. Individual core samples will be approximately 1.5 metres in length in altered rocks.
Since the start of the 2017 program, gold assays have been received for 880 trench samples. Assays are pending for the remaining 149 trench samples. The consistent grade at the Pitaya Gold Zone is now shown to extend more than 500 metres in the north-south direction and up to 160 metres east-west. The true thickness of this mineralization is unknown and requires drilling to be determined.
Corporate Update Note:
Further to Riverside's news release dated March 16, 2017 - the finder's fees payable to Sprott Global Resource Investments Ltd. have been amended. They will receive 149,168 Units instead of $78,660 as previously disclosed.
Qualified Person and QA/QC:
The scientific and technical data contained in this news release pertaining to the Glor Project was reviewed and prepared under the supervision of Locke Goldsmith, P. Eng., P. Geo., a non-independent qualified person to Riverside Resources who is responsible for ensuring that the geologic information provided in this news release is accurate and acts as a "qualified person" under National Instrument 43-101 Standards of Disclosure for Mineral Projects.
Rock samples collected from the trenches are being taken to the Bureau Veritas Laboratories in Hermosillo, Mexico for fire assaying for gold and ICP-MS analysis for 45 common and trace elements. The ICP-MS analyses of 200 gram pulp samples which are prepared from and are representative of the field samples are done at the Vancouver laboratory of Bureau Veritas. A QA/QC program has been implemented as part of the rock sampling program at Glor, with 98 blank and standard samples being included with the 880 trench rock samples that have been received from the lab to date.
About Riverside Resources Inc.:
Riverside is a well-funded project generation team of focused, proactive gold and silver discoverers. The Company currently has more than $6,000,000 in the treasury and approximately 44,000,000 shares outstanding. Riverside has a strong and growing portfolio of gold-silver and copper projects in Mexico. The Company structures partnerships on many of its projects to reduce risk and generate multiple discovery chances across the Company's portfolio. Riverside has additional properties available for option with more information available on the Company's website at www.rivres.com.
ON BEHALF OF RIVERSIDE RESOURCES INC.
"John-Mark Staude"

Dr. John-Mark Staude, President & CEO
For additional information contact:
John-Mark Staude

President & CEO
Riverside Resources Inc.
This email address is being protected from spambots. You need JavaScript enabled to view it.
Phone: (778) 327-6671
Fax: (778) 327-6675
Web: www.rivres.com

Joness Lang

VP, Corporate Development
Riverside Resources Inc.
This email address is being protected from spambots. You need JavaScript enabled to view it.
Phone: (778) 327-6671
TF: (877) RIV-RES1
Web: www.rivres.com
Certain statements in this press release may be considered forward-looking information. These statements can be identified by the use of forward-looking terminology (e.g., "expect"," estimates", "intends", "anticipates", "believes", "plans"). Such information involves known and unknown risks -- including the availability of funds, the results of financing and exploration activities, the interpretation of exploration results and other geological data, or unanticipated costs and expenses and other risks identified by Riverside in its public securities filings that may cause actual events to differ materially from current expectations. Readers are cautioned not to place undue reliance on these forward-looking statements, which speak only as of the date of this press release.
Neither the TSX Venture Exchange nor its Regulation Services Provider (as that term is defined in the policies of the TSX Venture Exchange) accepts responsibility for the adequacy or accuracy of this release.