John-Mark Staude

PRESIDENT / CEO
John-Mark Staude holds a Ph.D. in economic geology and has over 20 years of diverse mining and exploration experience in precious and base metals. He earned a Masters of Science from Harvard University in 1989 and a Ph.D. in economic geology from the University of Arizona in 1995. Mr. Staude held positions of increasing responsibility with a number of major international mining companies including Kennecott, BHP-Billiton, and most recently Teck Cominco. He also worked with smaller commodity-focused companies like Magma Copper Company and consulted to private investment groups. Mr. Staude's extensive Latin America mineral resource experience began in Mexico and then extended through South America. Recently, Mr. Staude has ventured into Europe and Asia initiating companies and managing successful exploration programs in Turkey, Romania and China. Mr. Staude has been successful in creating shareholder value through discoveries of gold and copper in Mexico, Peru and Turkey. He has located additional resources in known districts and helped convert discoveries into new mining operations. His technical and managerial experience spans more than 30 countries in diverse geologic environments. Through Riverside Resources, Mr. Staude will continue to build strong portfolios and profitable businesses through prospect generation, early stage partnering and drill discoveries.
John-Mark is also a director and chairman of Capitan Mining Inc.
Alberto Orozco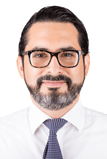 VP CORPORATE DEVELOPMENT
Alberto Orozco holds an MSc from the University of Sonora, Mexico, in collaboration with Saint Mary's University in Canada. He was also a PhD candidate at Dalhousie University in Earth Science and his academic work was published in Tectonophysics. He also holds the LEAD Certificate in Corporate Innovation from Stanford Graduate School of Business. He has 15 years of experience in the mining industry having worked for Linear Gold Corp., Pediment Gold and more recently in Argonaut Gold with roles of increasing responsibility. He has held the roles of Country Manager, Director of Exploration and more recently Vice President of Corporate Affairs and Sustainability and has been involved in exploring, developing and permitting a number of +1M Oz gold deposits in Mexico including, Ixhuatán, San Antonio, La Colorada and San Agustín. Alberto has a technical background and is also experienced in leading institutional and government affairs. Alberto is currently the President of the Sonora Mining Cluster in Mexico. Alberto is now the CEO of Capitan Mining, which is exploring the Peñoles Gold-Silver Project in Durango, Mexico.
Freeman Smith

VICE PRESIDENT, EXPLORATION
Freeman has 18 years of work experience in the minerals industry focused on generating and evaluating exploration properties primarily in the Americas. Freeman has worked primarily with prospect generators forming his first company in 2005 (BCGold) focussing on the western cordillera in BC and the Yukon. He also worked in Mexico with the prospect generator (Oro Gold) which defined the Tanuas deposit (Marlin Mining) and the El Compas deposit (Endeavour Silver). Subsequent to this company he formed Goldplay Exploration which is a project generator focused in Latin America. Freeman has also worked in the greenstone belts in Northern Canada and Ontario-Quebec (Integra). Throughout his 18 years of work experience, Freeman has held the position of exploration manager, VP of Corporate Development and CEO with junior exploration companies based in Vancouver.
Rob Scott

CHIEF FINANCIAL OFFICER
Mr. Scott has over 17 years of professional experience in the areas of corporate finance, accounting, and merchant and commercial banking. He is a C.A., a CFA Charterholder and earned a B.Sc. from the University of British Columbia. Mr. Scott has served as the Chief Financial Officer of Riverside Resources Inc. since March 2007 and prior to that, Mr. Scott worked at a private Vancouver-based merchant bank and a major Canadian bank in its commercial banking division and merchant banking subsidiary. He earned his C.A. designation in 1998 while working in corporate tax, accounting and assurance at a Vancouver-based accounting firm, and in 2002, he qualified for the Chartered Financial Analyst designation.
Ben Connor

CHIEF OPERATIONS AND DATA STRATEGIST
Mr. Connor received an honors degree in geographic science from the University of Western Ontario, followed by an advanced diploma in Geographic Information Systems from the British Columbia Institute of Technology. Mr. Connor further developed his technical and managerial expertise at companies such as BHP Billiton and Golder Associates before joining Riverside as a consultant in 2007. Mr. Connor has kept Riverside at the forefront of technology and data compilation; and has played an integral role in assisting and advising senior management on asset acquisitions, strategic partnering and asset divestments that have contributed to the Company's overall success.
Jeff Dare

CORPORATE SECRETARY
Mr. Dare has served as the Corporate Secretary since March 2008 and manages the Company's external reporting and corporate compliance. He works closely with external partners and service providers in the areas of Legal, Transfer Agency, Audit, Banking and Insurance which allows him to deliver timely information to Directors and Senior Officers. Before joining Riverside he started his financial career working at a major Canadian bank in its personal banking division.
Mr. Dare earned a Bachelor' s of Arts Degree from Simon Fraser University with a major in Humanities.