John-Mark Staude

PRESIDENT / CEO
John-Mark Staude holds a Ph.D. in economic geology and has over 20 years of diverse mining and exploration experience in precious and base metals. He earned a Masters of Science from Harvard University in 1989 and a Ph.D. in economic geology from the University of Arizona in 1995. Mr. Staude held positions of increasing responsibility with a number of major international mining companies including Kennecott, BHP-Billiton, and most recently Teck Cominco. He also worked with smaller commodity-focused companies like Magma Copper Company and consulted to private investment groups. Mr. Staude's extensive Latin America mineral resource experience began in Mexico and then extended through South America. Recently, Mr. Staude has ventured into Europe and Asia initiating companies and managing successful exploration programs in Turkey, Romania and China. Mr. Staude has been successful in creating shareholder value through discoveries of gold and copper in Mexico, Peru and Turkey. He has located additional resources in known districts and helped convert discoveries into new mining operations. His technical and managerial experience spans more than 30 countries in diverse geologic environments. Through Riverside Resources, Mr. Staude will continue to build strong portfolios and profitable businesses through prospect generation, early stage partnering and drill discoveries.
John-Mark is also a director and chairman of Capitan Mining Inc.
Freeman Smith

VICE PRESIDENT, EXPLORATION
Freeman has 18 years of work experience in the minerals industry focused on generating and evaluating exploration properties primarily in the Americas. Freeman has worked primarily with prospect generators forming his first company in 2005 (BCGold) focussing on the western cordillera in BC and the Yukon. He also worked in Mexico with the prospect generator (Oro Gold) which defined the Tanuas deposit (Marlin Mining) and the El Compas deposit (Endeavour Silver). Subsequent to this company he formed Goldplay Exploration which is a project generator focused in Latin America. Freeman has also worked in the greenstone belts in Northern Canada and Ontario-Quebec (Integra). Throughout his 18 years of work experience, Freeman has held the position of exploration manager, VP of Corporate Development and CEO with junior exploration companies based in Vancouver.
Rob Scott

CHIEF FINANCIAL OFFICER
Mr. Scott is an accomplished professional with 20+ years of experience In accounting and corporate compliance, corporate finance, and merchant and commercial banking. He is a CPA, CA and a CFA charterholder and has spent the last 15 years as a Senior Officer and Director of a number of issuers listed on the TSX Venture Exchange. In that time he has helped raise in excess of $200 million in equity and has gained extensive experience in initial public offerings, reverse takeovers, corporate restructuring and mergers, and acquisitions, as well as cost-effective management of operations.
He currently holds Management and Board Positions with a number of TSX-V Listed Issuers.
Ben Connor

CHIEF OPERATIONS AND DATA STRATEGIST
Mr. Connor received an honors degree in geographic science from the University of Western Ontario, followed by an advanced diploma in Geographic Information Systems from the British Columbia Institute of Technology. Mr. Connor further developed his technical and managerial expertise at companies such as BHP Billiton and Golder Associates before joining Riverside as a consultant in 2007. Mr. Connor has kept Riverside at the forefront of technology and data compilation; and has played an integral role in assisting and advising senior management on asset acquisitions, strategic partnering and asset divestments that have contributed to the Company's overall success.
Julian Manco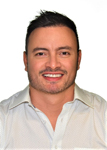 CHIEF GEOSCIENTIST
Julian Manco is a Professional Geologist (P.Geo) and holds a M.Sc. in Economic Geology from the Mineral Deposit Research Unit (MDRU) UBC, Vancouver, Canada. Mr. Manco has more than 13 years of experience working primarily as exploration geologist, manager and modeller with juniors and mid-tier mining companies including Minatura Gold (2010), Cordoba Minerals - HPX (2015), Barksdale Resources (2020) and participated from discovery through to resource estimation stage in the Cu-Au-Ag El Alacrán Deposit in Colombia among other projects. Mr. Manco leads the technical growth for Riverside with current focus in Mexico.