Riverside Resources and Partner Sierra Madre Outline High Grade Silver in Drilling and Trench Results From the Jesus Maria Mine Area at the Penoles Project in Durango, Mexico
November 16, 2011 – Vancouver, BC: Riverside Resources Inc. ("Riverside" or the "Company") (TSX-V: RRI) and its partner, Sierra Madre Developments (TSX-V: SMG), are pleased to announce high grade silver drill and surface trench results from the Jesus Maria Mine area at the Penoles Project, Durango Mexico. A single hole was drilled to test beneath the historic mine workings and trenches that have now been completed and this hole encountered multiple zones of silver-gold with associated lead and zinc mineralization. The trenching outlined new mineralization along strike, and confirmed previous results, reported by Riverside. The trenching delineated aggregate mineralized zones up to 20 meters in thickness (Trench 2). Six new trenches were completed by Sierra Madre to bedrock and identified high grade mineralized intervals up to 13.4 meters in width (Trench 4) averaging 1.7 g/t gold, 309 g/t silver, 2.4% lead and 0.6% zinc (including a 6.9 meter interval that averaged 3.1 g/t gold, 552 g/t silver 4.6% lead and 0.6% zinc). A summary of trench results is available on the Company's website.
The single drill hole that was completed below the historic mine workings at Jesus Maria encountered the highest individual silver value in this current program (1,757.7 g/t silver from a 0.2 meter wide interval) as well as intersecting three, mineralized intervals with an aggregate thickness of 8.5 meters. The first interval from 156.95 to 159.95 averaged 0.5 g/t gold, 209 g/t silver, 0.6% lead and 0.9% zinc. The second interval from 165.40 to 168.25 averaged 0.2 g/t gold, 86 g/t silver, 1.3% lead and 2.2% zinc and the third interval from 192.40 to 195.05 averaged 0.1 g/t gold, 91 g/t silver, 2.2% lead and 1.9% zinc. The 8.5 meter aggregate assay averaged 0.3 g/t gold, 131 g/t silver, 1.3% lead and 1.6% zinc. Summarized results from JM-DDH-11-01 are also included on the Company's website.
"Jesus Maria mine area has been one of the highest grade and most prolific mine zones in the >340 km sq Capitan Project Area and these new drill results prove the mineralization and potential mining can continue further than ever recognized," stated John-Mark Staude, President and CEO of Riverside Resources Inc. "The trenches have extended the length of the Jesus Maria mineralized zone and confirm that mineralization is still open along strike. Riverside looks forward to robust drilling of the Jesus Maria vein system and other major silver-gold vein systems in the Penoles District. Riverside is pleased to see Sierra Madre continue funding exploration and de-risking the property," added Staude.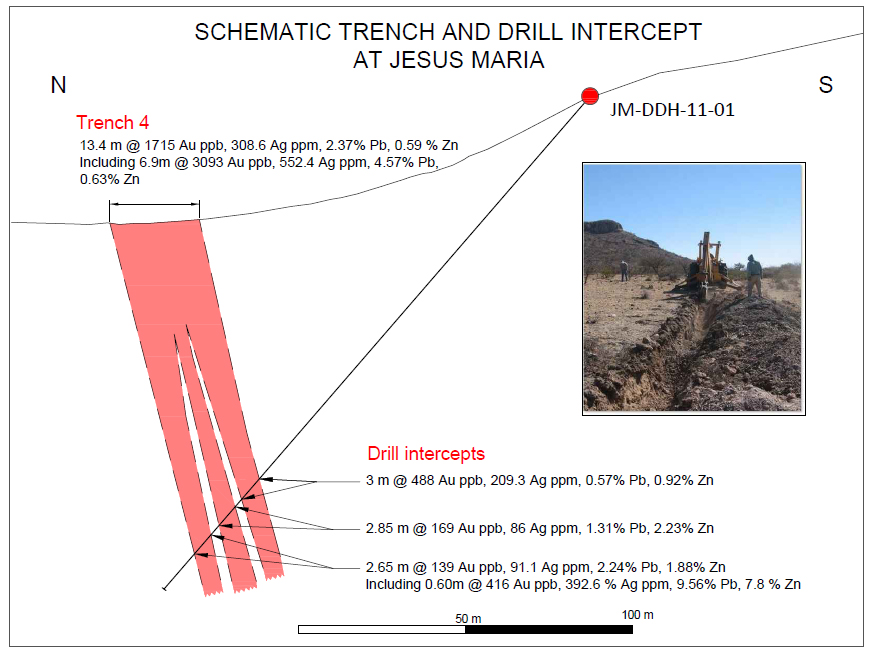 The thickness and continuity of the mineralized zone observed at Jesus Maria shows that in addition to having potential for oxide gold deposits at the Capitan Hill area, the Penoles Mining District also has potential to host significant silver mineralization that builds on the historic silver-gold production (see press release dated October 24, 2011 regarding recent drilling at El Capitan).
Trench Program Details:
Previous trench results announced on May 5, 2011 by Riverside at Jesus Maria included 8.3 meters averaging 1.68 g/t gold, 144 g/t silver, 2.4% lead and 2.2% zinc and a second trench with 22 meters averaging 1.08 g/t gold, 224 g/t silver, 2.5% lead and 1.7% zinc. The new trench results expand on this previous work and further define the surface extent of silver, lead, zinc, and gold of the Jesus Maria vein system.
The surface expression of the Jesus Maria mineralized vein zone is not well exposed and the historic underground mine workings are not presently accessible. The objectives of the trenching program were to assess the continuity of mineralization at Jesus Maria and determine the average width of the mineralized zone. Surface sampling has confirmed that mineralization extends over a strike length of at least 475 meters. Excavator trenching (Sierra Madre Trench No.1 to No.6) and trenching by Riverside (Riverside Trench No.1 to No.4) has confirmed that mineralization ranges from 7.45 to 22 meters in thickness over a strike length of approximately 275 meters. The existing mine workings are located in the northeastern part of one of the concessions, and the surface outcrop of the Jesus Maria is situated near the northern boundary of these concessions. The Jesus Maria concessions extend over a strike length of approximately 1.6 kilometers and cover the projected down dip extent of the Jesus Maria mineralized zone. Additional trenching is planned to continue tracing the western extensions of the mineralized zone.
Summary assay results obtained from the trenching completed by both Sierra Madre and Riverside Resources and the recently completed single drill hole are available on the Company's website at www.rivres.com.
Assaying and Qualified Person:
According to Sierra Madre, all trench samples were sealed in numbered plastic bags and transported to Inspectorate Assay labs facility in Durango City, a laboratory certified for the provision of assays and geochemical analysis (ISO:9001-2008). All drill core was placed in numbered boxes and transported to Sierra Madre's secure core facilities by the drill contractor. Following detailed core logging all core was split using a diamond bladed core saw under the direct supervision of Sierra Madre's Geologic staff. Half of the core was kept on site in the original core boxes, the second half was placed in labeled and sealed sample bags which were transported directly to the custody of Inspectorate, a laboratory certified for the provision of assays and geochemical analysis (ISO:9001-2008). Samples were transported to Inspectorate's facilities in Durango, Mexico for prep work and analyzed at their facilities in Reno, Nevada. All samples were prepared using standard industry prep methods followed by fire assay analysis and aqua regia digest for trace elements. All samples with greater than 10 g/t Au were additionally tested by fire assay with a gravimetric finish. Sierra Madre has included industry certified Au standards and blanks within the sample stream in addition to field duplicates as part of the QA/QC program.
The scientific and technical data contained in this news release were prepared under the supervision of Mark J. Pryor, Pr.Sci.Nat, an independent qualified person to Riverside Resources, who is responsible for ensuring that the geologic information provided in this news release is accurate and acts as a "qualified person" under National Instrument 43-101 Standards of Disclosure for Mineral Projects.
About Riverside Resources:
Riverside is a well-funded prospect generation team of focused, proactive gold discoverers with the breadth of knowledge to dig much deeper. The Company currently has approximately $10,000,000 in the treasury and fewer than 35,000,000 shares issued. The Company's model of growth through partnerships and exploration looks to use the prospect generation business approach to own resources, while partners share in de-risking projects on route to discovery. Additional property information on the Company's projects can be found on the Riverside Resources Inc. website at www.rivres.com.
ON BEHALF OF RIVERSIDE RESOURCES INC.
"John-Mark Staude"
Dr. John-Mark Staude, President & CEO
For additional information contact:
Joness Lang

Manager, Corporate Development
Riverside Resources Inc.
Phone: (778) 327-6671
Fax: (778) 327-6675
Web: www.rivres.com

Kaley Reid

Corporate Communications
Riverside Resources Inc.
Phone: (778) 327-6671
Fax: (778) 327-6675
Web: www.rivres.com
Certain statements in this press release may be considered forward-looking information. These statements can be identified by the use of forward looking terminology (e.g., "expect"," estimates", "intends", "anticipates", "believes", "plans"). Such information involves known and unknown risks -- including the availability of funds, the results of financing and exploration activities, the interpretation of exploration results and other geological data, or unanticipated costs and expenses and other risks identified by Riverside in its public securities filings that may cause actual events to differ materially from current expectations. Readers are cautioned not to place undue reliance on these forward-looking statements, which speak only as of the date of this press release.
Neither the TSX Venture Exchange nor its Regulation Services Provider (as that term is defined in the policies of the TSX Venture Exchange) accepts responsibility for the adequacy or accuracy of this release.